Joseph and Emma Stories
Emma Bearden and her family went to Lomland Church in Waterproof, Louisiana. This is where she met her future husband, Joseph Franklin Keyes,in 1937. She hated him when they first met. One day she was walking down the road when he came up behind her and asked, "Can I walk with you?" She smarted off to him, "I guess you can, it's a public road!"

Emma had several girlfriends that she went to ball games and other places with. Some of her friends were Frances Blaylock, Adele Blaylock, Hilma Keyes, Vivian Keyes and others. Joseph Franklin was Vivian Keyes' brother. At one of these ball games, Joseph had a date with another girl. This other girl saw someone else that she wanted to be with and she left Joseph to go with this other guy. So, Joseph came over and sat down and started talking to his sister and her friends, and somehow he andEmma got together. They dated for eight or nine months before they got married.

After Joseph and Emma started going together, her mother would not let her spend the night with Vivian anymore. She didn't think it would look right. So, Joseph started giving notes to Vivian to take to Emma. Emma would answer them and send them back with Vivian.

Just before Emma and her family moved to Waterproof, Joseph went to see a Fortune Teller. She told him that before too long he was going to meet the girl he was going to marry and spend the rest of his life with. She also told him that if he would give her an extra five dollars, she would tell him the girl's name. He didn't pay her the extra money, but he did meet the girl and he did spend the rest of his life with her.

Emma and Joseph got married on December 24th, 1939 at Flynn Plantation in Clayton, Tensas Parish, Louisiana by Brother Lucian M. Farrar of Natchez, Mississippi. They got married in the home of her parents, Mr. and Mrs. William Edgar Bearden. Witnesses were Willis Keyes (Joseph's cousin), Frank Keyes, Sr. (Joe's Father), and W.E. Bearden (Emma's Father). They applied for the license on December 15, 1939 from the Clerk's Office, Sixth District Court, Tensas Parish, Louisiana. E.F. Newell was the Clerk of the District Court.

Two weeks after they married, they moved into a house belonging to Joseph's Uncle Wiley. A short time later they moved onto Steep Bayou. Emma was, by this time, pregnant with their first child, Katherine Marie Keyes. Marie, as she was called, was born in the Charity Hospital in Natchez, Mississippi. After she was born, Joseph's father went to the hospital to pick them up when they were discharged from the hospital. He was in a pickup truck, and he had a mattress in the back of it for Emma to lay on for the trip back to Steep Bayou. Emma's mother and Joseph's Stepmother, Claudine, had Marie up in the front of the truck with them while Emma rode in the back of the truck on the mattress. It was pouring down rain and this was in the latter part of October, so you can just imagine how cold and wet she was.

Joseph was born February 26, 1912 in Trenton, Smith County, Mississippi. This town is no longer in existence. Joseph's parents were William Franklin Keyes, Sr. and Lyda May Bratcher. William was born February 16, 1888 in Mississippi and died December 17, 1953 or 1954 in Newellton, Louisiana. He was a member of the Buckhorn Hunting Club in Tensas Parish, Louisiana. Lyda May and William Franklin lived in the Lingle Community in Smith County, Mississippi. She was the daughter of Joshua B. "Bud" Bratcher and Sarah or Kim Bratcher. Bud and Sarah/Kim were both born in Mississippi.

Joseph's mother gave birth to a son named Reubin Joshua Keyes on the 3rd of June, 1914 at 2 a.m. in the morning. He was born in Trenton, Smith County, Mississippi. Joseph was two years old at the time. Lyda May was 20 years old on her last birthday when Reubin was born. The attending physician was .L. Patton. Lyda May died from Puerperal Albuminuria Convulsions (*Puerperal --fever of the bloodstream after childbirth) (*Albuminuria -- presence of albumin in the urine, occasionally indicating Kidney disease), complications of childbirth on the 10th or 11th of June, 1914 in Trenton, Smith County, Mississippi. Reubin died two months after he was born.

Lyda May was born 1894 in Mississippi. She was about 17 years old when she got married, and was 18 when Joseph was born. She was 20 years old when she died. They lived in the Lingle Community. She is buried in the Zion Cemetery.

After Joseph's mother died, his father took him to live with his grandparents, Joseph Berry Keyes, Jr. and Eliza Jane McAlpin. Rumor has it that Eliza Jane kept a spick and span neat and clean house, so clean you could eat off of the floors. And she got out everyday and swept and raked her yard. Back then they didn't have much grass in the yards, so it was just dirt, but it was clean dirt. She also had beautiful flowers. Joseph's old maid Aunt, Dora Keyes, was still living with her parents and she kind of took this 2 year old child under her wings and more or less raised him. Joseph Berry Keyes, Jr's. parents were Joseph Berry Keyes, Sr. and Elizabeth Ann Sellers. Eliza Jane McAlpin's parents were John McAlpin and Elizabeth McNatt. Elizabeth Ann Sellers parents were John Sellers and Sarah Juriah McLemore. Family tradition is that Sarah Juriah McLemore's father was Richard McLemore born 1773 in South Carolina. He lived in the Cheraw District in South Carolina. Sarah Juriah was born in 1806 in the Darlington District in South Carolina.
If the Richard McLemore, born 1773, was Sarah Juriah's father, then according to the McLemore Book on Amos McLemore, Richard's father, also a Richard McLemore, was born around 1750 and his father was Richard McLemore born about 1723.

By the age of nine, both of Joseph's grandparents had died. JoBerry, Jr. (as he was called) died first and Joseph was in the house when his grandmother, Eliza Jane told him to go get his Uncles' because she was sick. She died before they could get her help. JoBerry, Jr. died from Cancer of the mouth. After his grandparents died, Joseph and his Aunt Dora went to live with his uncle, Wiley Keyes. Uncle Wiley lived on the Tensas River in Waterproof, Louisiana, down from Flynn Plantation. Joseph went to Waterproof High School from age 9 years to the 11th grade. Back then the 11th grade was as high as you went.

Joseph and Aunt Dora continued to live with his Uncle Wiley until he was 19 years old. There was some kind of friction between Joseph and Uncle Wiley because of Willis Keyes. Willis was Uncle Wiley's son and he was always trying to start trouble. Uncle Wiley jumped on Joseph one day and started whipping him. Joseph said it was the last time he would lay a hand on him, so he and Aunt Dora packed their belongings and went to live with his daddy, William Franklin Keyes, Sr. Aunt Dora went with him because she felt like Joseph was her child. After all, she had a major hand in raising him since he was two years old. They went to live with his father, who had remarried after Lyda May's death. He had married Tina Mae Phipps. She was the mother of Joe's half sisters and brother, Tina Mae Keyes, Vivian Alleen Keyes, and William Franklin Keyes, Jr. She had died years earlier and he had remarried a third time to Eunice McMahon. They had a daughter named Sadie Keyes. After Sadie was born, Eunice left him and he married Claudine Burton. Claudine, at that time made a very good stepmother for these motherless children. Of course, Aunt Dora was there too. They were all living on Dr.Davis's land on Steep Bayou. Joseph went to work with his father, painting houses, farming and trapping.

Emma and Joseph moved from Waterproof, Louisiana to Tallulah, Louisiana in 1943, and Joseph went to work at the Chicago Mill and Lumber Company in Tallulah. He worked there for 20 years. They moved to Sims Camp, halfway between town and the Chicago Mill. Joseph and Emma lived on old Highway 80, close to the Cemetery, at another time. This is where they lived when I (Peggy Louise Keyes) was born.

After I was born, Joseph, Jr. would steal my bottle every time my mother would give it to me. He would hide behind the door until she was gone and then he would take it, suck it dry and then put it back in my mouth. So you know, if he knew to put it back in my mouth, then he knew he was doing something he was not supposed to be doing. I was steadily losing weight and nearly starved to death. When my mother finally caught him, she gave him a whipping he didn't forget anytime soon. And he never stole my bottle again.

Later, we moved to the green houses down by the Chicago Mill and Lumber Company. These were Shotgun Houses. The kind you could shoot a gun straight through and not hit anything in the house. One of our neighbours was Sylvester Keyes and his wife Bertha Keyes. Sylvester was a second or third cousin of Joseph Franklin Keyes, Sr. They had a son and a daughter, Billy and Shirley Keyes. They lived right down the road from us. We used to play with them and we had a club. We would set traps for blackboards, catch them, kill them, roast them, and eat them.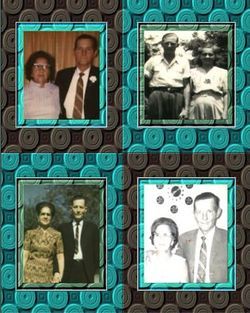 Stories By Aunt Vivian Keyes Watson
Don't Sneak Off Fishin
After Mama died and Aunt Dora and your Dad (he was 19 then) came to live with us, Papa was off working somewhere and Frank and I decided we had to go fishing. Papa had warned us to stay away from this place that he thought was dangerous. He said, "Now ya'll stay away from there. I don't mind you going with me when I go, but I don't want you over there by yourselves." Well, of course, that just made us want to go over there by ourselves all the more. There was a wide place where we went this time and another tree had fallen, but gosh, you'd have to take a boat to get across this place. Anyway, this hugh Cypress Tree was just laying there, so Frank and I proceeded to go out on the tree and fish. Well, I want you to know, Frank went back toward the bank and while he was fishing he caught a Water Moccasin and killed it. He left it on his fishing line and every time I would walk toward him, he would sling this old snake toward me and he kept me out on that tree. I was screaming and he was literally scaring me to death. He kept me out there it seemed like an hour, but I'm sure it wasn't. It was probably about five minutes. He was terrible. I tried to get back to the bank and he was between it and me and he kept doing me that way until finally he swung it and the old snake came loose from his pole and went sailing off into the River. I came back and that taught me a lesson not to ever sneak off and go fishing with him again. And then, Papa found out. Somebody had seen us and then of course, we caught "Hail Mary" for going, so I had a miserable day and got punished besides.
When Granddaddy Died
Peggy, when your Granddaddy died, Claudine sold the house that we lived in. What happened is this. There was a big stink in that. Really, Peggy, that was the biggest mess I ever saw in my life. Anyway, I didn't care what she did with it because whatever I was going to get, she could have kept it till she died, for all I cared. That was my attitude. I was pregnant with Debbie and almost lost her due to Papa's death. I never have had trouble breathing or anything, but after his funeral I did. I had to go to the Doctor. I had not even been to the Doctor before, but when I did go, I was having problems and was afraid I was going to lose the baby. He gave me some medicine and shots. In fact, Dr. Whitaker over there in Newellton is who I went to. He gave me a shot during the time of the funeral and then I had to stay in bed for 17 days before I got OK.
Anyway, Claudine was not happy that we were even going to get anything. She let us know right off that whatever there was she and Fred would get it. Fred was her son by a previous marriage. So, anyway, I never did go back over there. His name was Fred Barnette.
Papa didn't leave a will and the State of Louisiana is like that. Mississippi is not, but Louisiana is a Community Property State and honey, by law that's the way it is. But she didn't want us to have anything. She just wanted us out. She was made the Administrator. She had all of the rights except she needed our say so as to some of the stuff she could do. But like I said, I didn't care what she did with any of it. So, your Aunt Tina went and got a Lawyer and by the time he went back and forth between Vicksburg and Newellton a dozen times, we got a little penance. That's what it amounted to.
Claudine got the house. We got a little bit from some of the acreage, which she bought from us and then she ended up selling the house and sending Lamar Barnette to college with it. Lamar is Fred's son. It wasn't that we wanted to do her out of anything. I certainly didn't, Peggy. She could have had every dime till the day she died, but whatever would have been mine later on I would have liked to have then.
You know, Peggy I want to get in touch with Lamar because when I was a teenager we had a big Family Bible and I wrote some information in it. I probably wrote Mama's birth date and more in it and what little information I could gather, which wasn't much. But I want to find out if Lamar has that Bible and any pictures of Papa and Mama. Claudine got everything that was left over and Lamar stayed down there and lived with her, so I imagine he would be the one that would know what happened to everything.
Also, another thing that I would have loved to have had, actually, it was two things. One was Mama's sewing machine. I don't know what Claudine did with it. The other thing I would have loved to have had was this iron bed, one of those with the curly cue things on it. After Papa died, I did go back down, when she was married to this Haywood man, to see her and asked her about it then. She said something about it being out in the barn and she went out that way. I didn't go with her because she acted like she wanted to go by herself and when she came back, she said it wasn't there, so I don't know if she changed her mind or if somebody had gotten it or what. But I would have loved to have had that bed. Not only was it beautiful, but it belonged to Mama and Papa